There are many pictures from the Great War that show once leafy woodlands reduced to blasted tree stumps surrounded by mud, so with that image in mind I set about making some for the gaming table. Rather than steam ahead and make lots I thought I'd make a test piece to see if the finished result looked good enough.
The stumps are made from bits of an old shrub I found in the garden. It was so tough I had to break the stems with pliers! I sawed some of the ends so as to give a good bond with the base. The base is simply a piece of 3mm MDF liberally covered in filler. Later it was covered in a mix of sand and grit.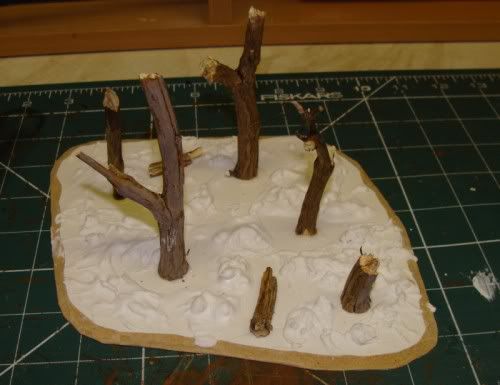 (click for a larger image)
Here's the finished article.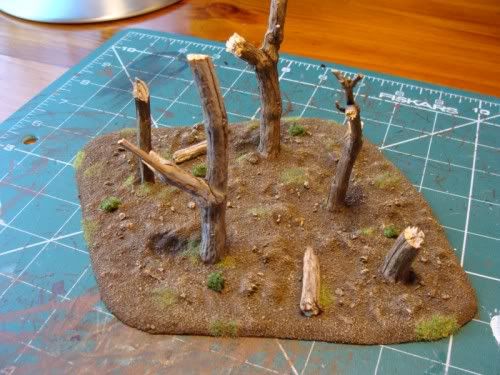 (click for a larger image)
The base was painted in Vallejo Leather Brown and then liberally dry-brushed with Flat Earth. Then I added a couple of highlights with a light brown and a cream colour. After that came a light garnish of static grass and a few pieces of scenic foliage.
Here's a few of my BEF making their way across no man's land.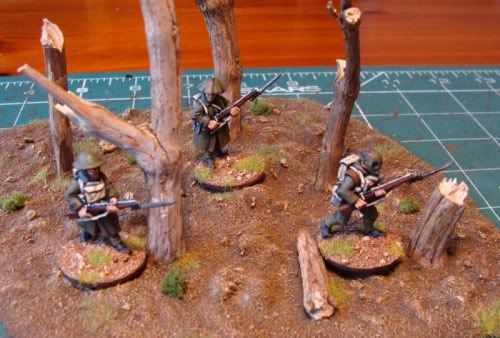 (click for a larger image)
Now I need to get on and make another two or three sections. Also, more painted figures soon.