We picked up these splendid resin buildings at Salute from Gripping Beast. I think they're actually made by Grand Manner for Gripping Beast. Anyway, I reckon that no Dark Ages battlefield can be complete without a few nice looking thatched buildings!
All painted for me by my wonderful wife :o)
Here's a wattle and daub thatched hut. Note the GB plastic Vikings, also painted by "She who must be obeyed", more of these will appear in a future post.

(click for a larger image)
Now a larger thatched building. The thatch has been painted to represent newly laid thatch. We spent quite a bit of time looking at real thatched buildings during a recent weekend break in Devon to get a good idea of colours.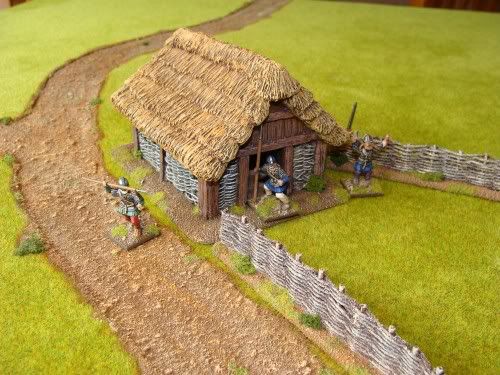 (click for a larger image)
And again.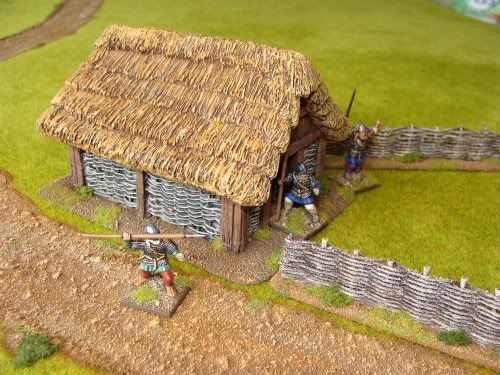 (click for a larger image)
These Vikings clearly think that some pesky Saxons might be hiding in this small hut!

(click for a larger image)
The hurdle fence was made as something of an experiment. I glued cocktail sticks in to the strip of MDF, then got my eldest daughter to weave some thin string between them. A couple of coats of PVA sealed the string ready for painting. I fairly pleased with the result but it does still look a bit "string-like", so I've been trying out other materials - see later.
The largest of the buildings - a Lord's hall perhaps?

(click for a larger image)
The village so far. I intend to make a range of scenic extras such as tables, baskets of food, fire pits, dung heaps, lots more hurdle fencing, a hurdle 'dunny' (a la Jorvik), animal pens, log piles and maybe even a smithy or a pallisade.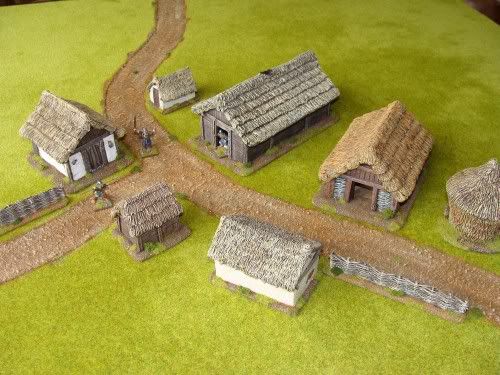 (click for a larger image)
Since I want to use these buildings for a range of Dark Age settings, e.g. Arthurian through to Vikings, I decided to keep the buildings as is rather than affix items such as shields and weapons, etc. These can be added by using the scenic items I mentioned above. Thus the buildings can be themed to the appropriate era. This may all sound a lot of work but I really do like my scenery to look good - it really adds to the enjoyment.
Here's a work in progress animal pen. After the not entirely successful "string theory" experiment I found some flexible garden wire. As before, cocktail sticks are glued in to holes in the MDF base. The woven wire is given a couple of coats of PVA - this keeps the wire in place and fills in some of the gaps.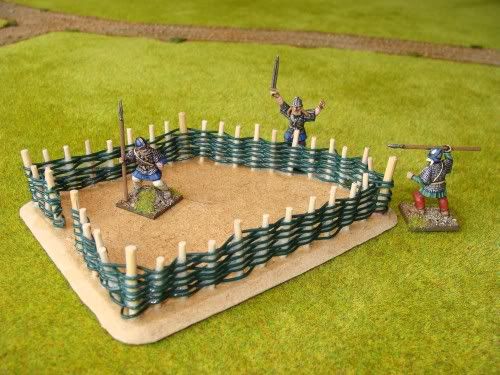 (click for a larger image)
Here's another test, this time using bristles trimmed from a garden broom. I think it will give the best result but sorting the bristles and weaving them took far longer than using wire.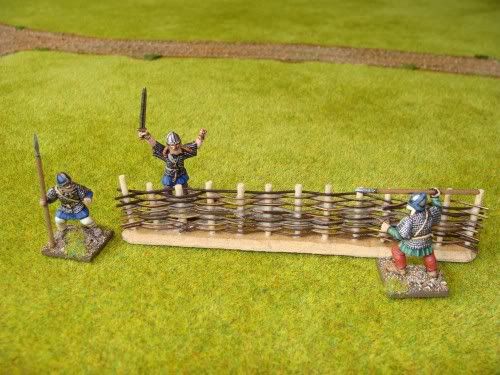 (click for a larger image)
Will post more pics when I've made some of the extra scenic items. But now I really ought to get on with painting some models so I can play a few games with all this new scenery.