I've been having a rummage through my 'skirmish' collection of 28mm Napoleonic figures to find what I can use to get the Light Division started.
Here's the start of the 52nd Oxfordshire Light Infantry and a detachment of the 95th.

(click for a larger image)
The 52nd will initially be a 20 figure unit, i.e. 5 bases of 4 figures. I'll need a pair of flag wielding ensigns and may be a drummer for the empty base which will then take pride of place in the centre of the unit. Figures are mainly Front Rank with a few Foundry.
(click for a larger image)
Here are the 95th. I have a few more models including a couple of the excellent Perry plastic riflemen. These are Front Rank and Foundry. Is that Rifle officer brandishing a straight heavy cavalry sword ... ? ;-)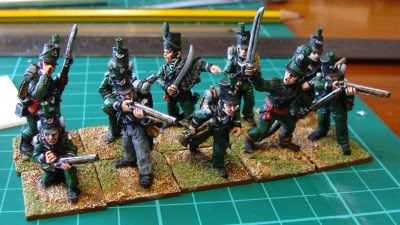 (click for a larger image)
I noticed an advert in the latest Wargames Illustrated previewing Victrix's new Portuguese Cacadores which look rather splendid! I'll also need to find models suitable for 'Black Bob' Crauford and his staff.
Anyway, the plan is get the other 8 redcoats painted before ordering the rest of the 52nd and 95th ... crumbs how disciplined eh? But there are a pile of Romans on my painting table demanding my attention!