Here's a few pics of my recently completed Celts. The figures are mostly Warlord Games with a few Black Tree Design.
The first pic shows the basic painting style I use for dipping. White undercoat and block colours. Only the skin and the metal areas get two coats. For the skin I use a base of GW Dwarf Flesh followed by a quick higlight with Foundry Base Sand Light. The metal areas get a first coat of GW Chaos Black followed by either GW Mithril Silver or GW Burnished Gold.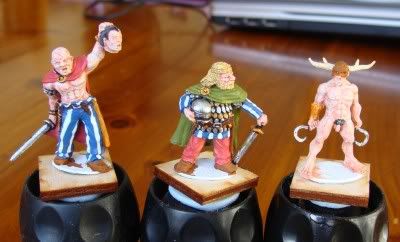 (click for a larger image)
Now the figures have been dipped using Army Painter strong tone, brushed on. Ooh aren't they shiny!
(click for a larger image)
A quick spray of Army Painter Anti-shine spray (tip - shake it really well) and a nice base makes all the difference!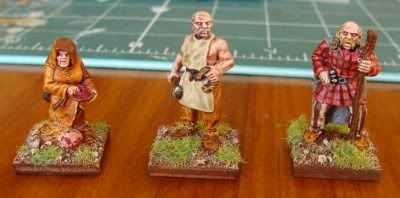 (click for a larger image)
Clearly, to get ahead you ... er ... need to get a head!?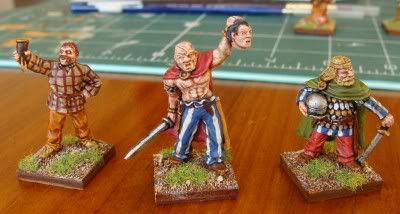 (click for a larger image)
Basing - 3mm ply bases (20x20mm) from Litko - highly recommended. Covered in a mix of sand and grit. Base colour of GW Bestial Brown, followed by highlights of GW Vomit Brown and GW Bleached Bone. Add a few clumps of static grass to finish off. For these character types I'll also add a few pieces of woodland scenics foliage, since they'll be front rankers.
I now have just in excess of 1,400pts (~160 models) in my Celt force so I think I'll give painting them a rest for now. I'll try to find time to get them all out and take a few whole-army shots for the blog.