Here's a few pics of my recently completed Late War British. All figures are Great War Miniatures painted in my 3-colour Foundry style paint scheme.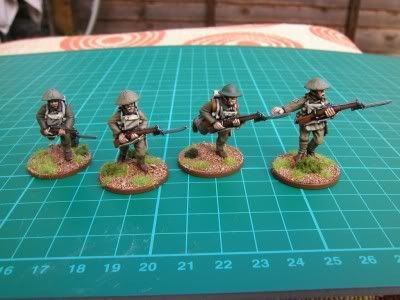 (click for a larger image)
An NCO and 3 privates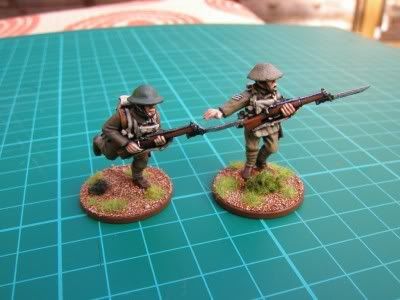 (click for a larger image)
NCO and private.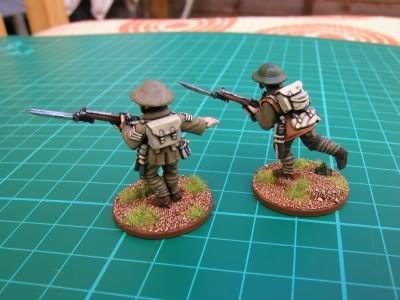 (click for a larger image)
Rear view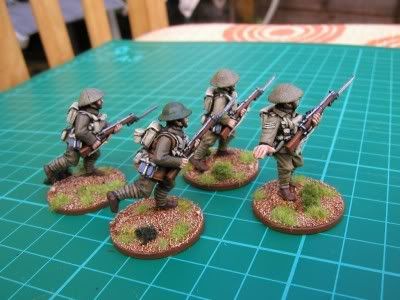 (click for a larger image)
Steady lads!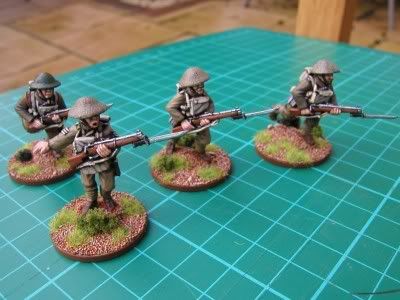 (click for a larger image)
Wait for it!
I've really enjoyed painting these fellows! It has made a nice change from Romans and Celts plus I've been able to use a rather different colour palette which proved quite a challenge at first.
All of the figures were painted from a black undercoat. For the uniforms two had a base coat of Foundry Drab Shade, the other two had GW Charadon Granite, highlighted with Drab Mid and Khemri brown respectively. The webbing is GW Kommando Kahki with GW Bleached Bone highlights. One of the figures has a leather 'surcoat' which I painted GW Vermin Brown, with GW Vermin Brown and Desert Yellow mix highlights. The puttees were the same as the uniform colour with a little extra mid-shade to give better highlights.
My recent visit to the battle fields of the Somme (full report to follow soon) has given these figures a particularly special meaning. So on the 90th anniversary of the guns falling silent ... please wear your poppy with pride.
Lest we forget.