Have a look at these.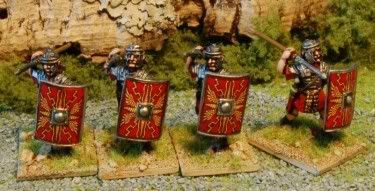 (picture from the North Star website - no infringement of copyright intended)
More at
http://www.northstarfigures.com/shop/imagomilitis/index.html
Looks promising eh!? All this fuss about Warlord and WGF plastics, but I can't help but like metal dollies. Plus, having looked at the pics posted on the WAB forum comparing Warlord with Foundry and GB, the Warlord EIR will be too small to stand alongside my BTD figures. Hopefully these fellows will be 28mm foot to eye.
Why would I not buy more BTD Legion ... ? Well, the BTD Aux figures are great with crisp detail and good pose, etc. But the Legion are just not quite as good. Maybe the moulds need updating but the detail is not as ... detailed! On the table they'll look ok but up close (i.e. when painting) it's noticeable.
Anyway, take a look at North Star's range and see what you think. They also go very nicely with the excellent LBM transfers. I'll be (politely) asking for a sample once I'm back in the UK.
Strength & Honour.